The Satanic Temple currently offers two series of weekly virtual religious services: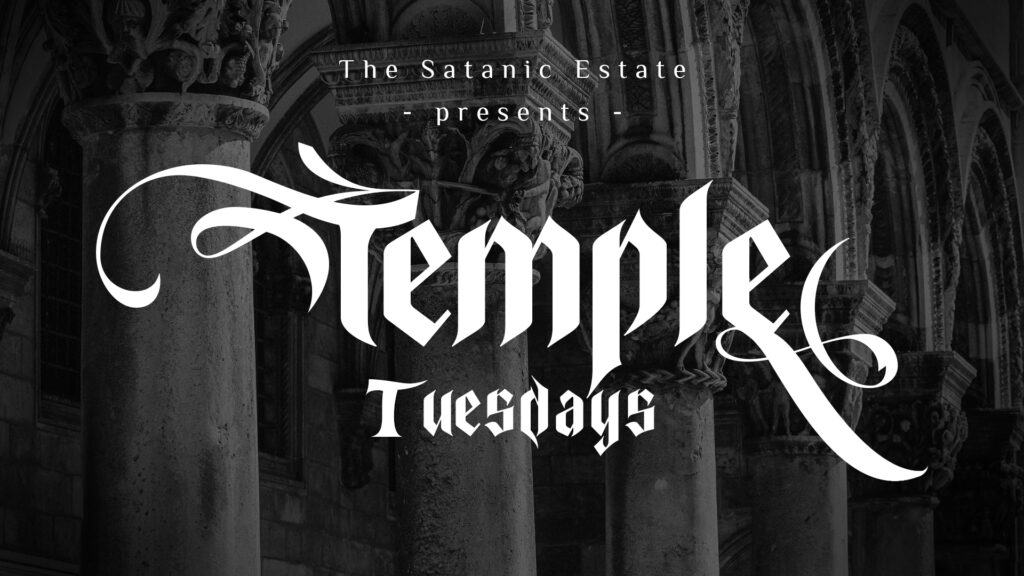 Every Tuesday
9:00pm US Eastern Time
hosted by
The Satanic Estate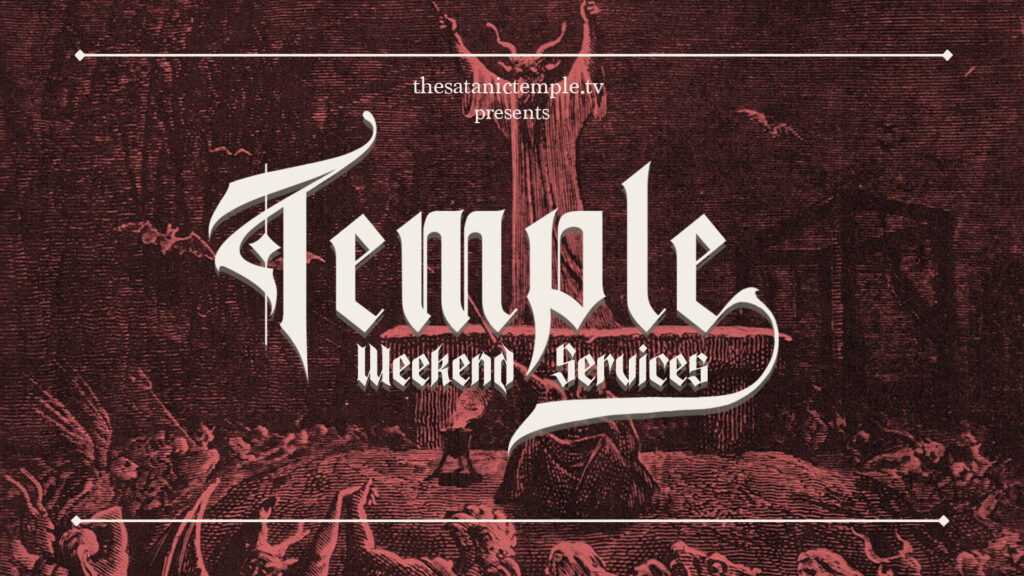 Every Saturday
10:00am UTC
hosted by
The Satanic Temple TV

If you have never attended religious services by The Satanic Temple, read About Our Religious Services before you do anything else. That page gives you an overview of what services are like and what to expect.
Do I need to make a purchase or reservation ahead of time?
Both services are free, although both platforms do require you to register in some way to attend. For Temple Tuesdays, you must reserve a ticket for each service you want to attend. For Temple Weekend Services, you select the "Live Chat Access" purchase option and enter DEMONCHATTER as the discount code to make it free. Both of these platforms have more detailed instructions to help you out when you sign up.
What should I do when I arrive?
For both services, the live chat opens one hour before services begin. In the Satanic Estate, you will go to the Sanctuary in their virtual building, where you will see a text chat and a video player. On The Satanic Temple TV you will similarly see a video player with a text chat on the Temple Weekend Services page. The video player is where you will view the services. Feel free to hang out and socialize on the text chat before services begin!
Each service will have a chat moderator who may post notices periodically in the chat, including instructions on how to participate as part of the round table video discussion. If you think you may be interested in appearing in the video discussion, please read our Guide For Interlocutors.
If you arrive late, please approach the situation as you would at any in-person event: enter quietly so that you do not take focus away from the event. Please do not greet the text chat or draw a lot of attention to your arrival. Instead, simply press the play icon on the video feed and begin to watch the service.
What is proper conduct during service?
Please try to keep cross-talk in the text chat to a minimum during services. This does not mean that chat is prohibited: throughout the services you may want to share your reaction to something that is being said, or express agreement or disagreement with someone in the live stream discussion. The minister may specifically call on the people in the text chat to answer some question by typing a short response–this is a way to get a "roll call" of people's opinions or reactions to something being discussed.
However, "cross-talk" happens when people begin to go back and forth in dialogue in the chat with one another. When this goes on for long periods of time, it can be very distracting because it divides people's attention between the chat discussion and the conversation in the live stream. Please remember that audience members came here for the live stream, so be considerate and keep your text conversations to a minimum.
What do I do if there is a problem?
If your video feed freezes or goes blank, try finding the small "live" button with the red circle in the lower left corner. If you click on that button it will sometimes reset the video. If that doesn't work, you may want to try refreshing the browser; however, if you do that you may need to manually rejoin the service.
Moderators and technical help will always be available during the service. Moderators are in the chat to help keep the discussion on topic and to deal with any misconduct by people in the chat. You may also mention it to a moderator if you are having technical difficulties and they can pass your message on to the technician that is on call.