The Satanic Temple currently offers two series of weekly virtual religious services: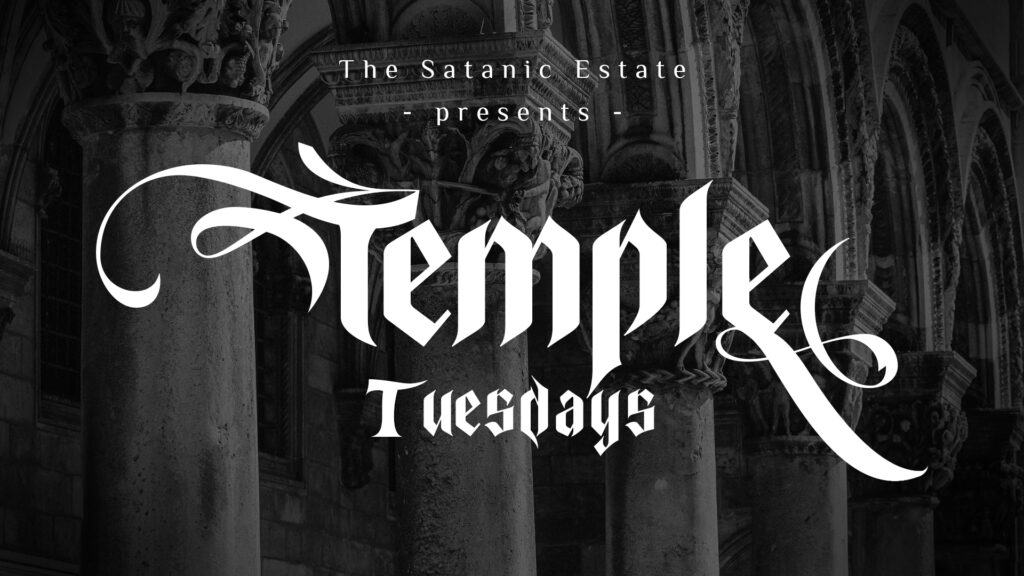 Every Tuesday
9:00pm US Eastern Time
hosted by
The Satanic Estate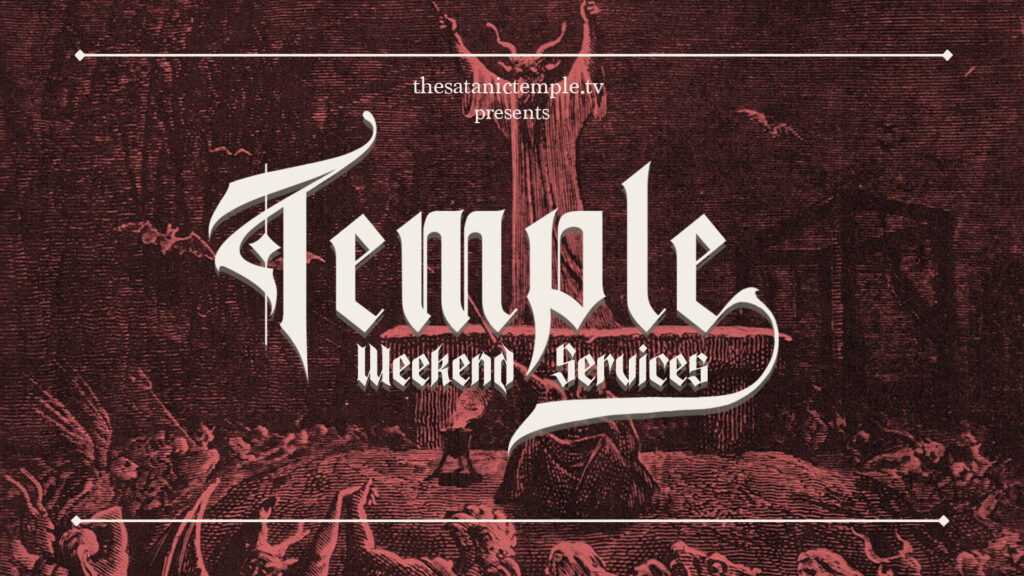 Every Saturday
10:00am UTC
hosted by
The Satanic Temple TV

Attending Temple Tuesdays
The Satanic Estate is a social platform where people can gather and hold events in an online space designed to feel like buildings. Temple is one of the three virtual buildings of The Satanic Estate, dedicated exclusively to Temple Tuesday services and after-service events.
To attend Temple Tuesdays at The Satanic Estate, you have to reserve a ticket for the service you want to attend. Reserving the ticket is free, but you will not be able to get in if you skip that step.
When you reserve your ticket, you will receive an email with credentials and information on how to access the event. If it is your first event at Temple, this email will include a temporary password that you will be prompted to change once you have registered. Once you set up your account, you will use the same login and password every time you attend services.
You will receive another email notification when the building opens! At that point you will be able to enter The Satanic Estate. You will be asked to choose your display name and sigil, and will then see the entryway to the Temple!
The caretakers of The Satanic Estate have put together a helpful guide for navigating the building, and for tips on how to conduct yourself at services, check out our Guide for Audience Members.
Attending Temple Weekend Services
The Satanic Temple TV is an online subscription media platform that delivers movies, lectures, exclusive series, and live broadcast events created by and of interest to members of The Satanic Temple and other Satanists. Temple Weekend Services are a weekly live broadcast event featuring their custom chat interface, DemonChat.
To watch Temple Weekend Services on The Satanic Temple TV, you must either be a paying member of TSTTV or you must sign up for the "Live Chat Access". Signing up for chat access is free, although you will need to select the $6.66 price option for purchasing Live Chat Access, and then enter the discount code DEMONCHATTER on the checkout screen. This will reduce your price to zero, and you will not be required to enter any payment information.
You will only need to go through this process once. After that, each time you return to Temple Weekend Services you will automatically have access to view the service and join the DemonChat live chat platform.
For more information about DemonChat, and detailed instructions on how to sign up and use it, check out the Introducing DemonChat article on TSTTV!